South Bend Leadership Excellence Certification for High School Students, Companies, and Professionals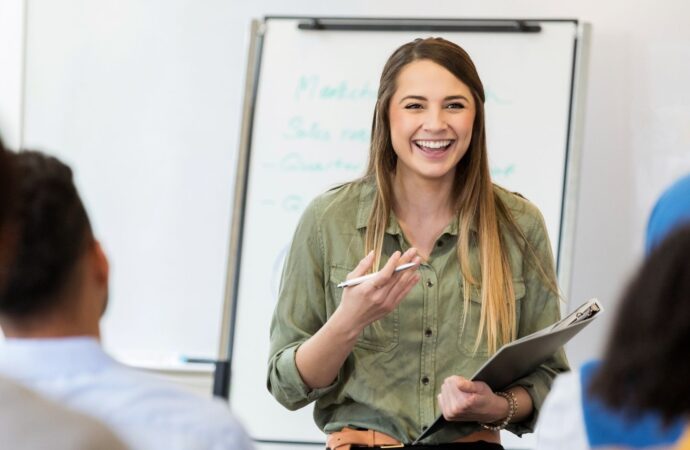 It's not easy to lead a team. Most companies neglect to ensure that the right people are in this position or don't even bother about it if they have a team built with most of the talented people in the industry. However, many forget or miss that talent will often go to waste without proper leadership. Most teams in a school or company lack the right person to help them shine and ensure that their work is efficient and effective. Leadership Excellence is a priority in Lean Six Sigma Curriculum for South Bend High Students of Indiana. We take the principle and methodology to instill it in any future generations and all individuals, so they know how to work as great leaders in a company or their own projects.
Companies that have a leader for each team or who work with teamwork will get better results. People can use their talents more effectively if there is someone to ensure each person gets the right job and focuses on the right area. Leaders aren't just someone who can give orders; they guide the whole group and take a lot of responsibility for the results achieved in the end.
A comprehensive introduction to Lean Six Sigma is a great resource as the methodology helps with the introduction of this skill and how crucial it is for individuals to learn it.
Our Leadership Excellence training is for students and professionals alike. This training teaches you how to manage your time, improve performance and teamwork, and work towards improvement through collaboration but not lose your independence when necessary.
Students need to be able to manage and plan for their teams. Business professionals are able to manage businesses and guide them in the right direction based on established goals. They can also use every member's talent.
Keep in mind that Leadership Excellence classes can be linked to decision-making using the LSS methodology. Leaders need to consider all options and potential issues. They might make a bad decision, which could result in wasted all of their efforts.
Leading Doesn't Mean You Give Up on the Work
This training is appropriate for high school and college students and professionals, and individuals interested in the realities of work.
Our classes and training don't focus on a company, industry, or institution but on the individual and how they can develop their leadership skills. You should consider this option as a way for you to grow personally and reach more than your company's goals. It's all about you.
Lean Six Sigma Curriculum Pros of South Bend is a team dedicated to teaching leadership skills and helping you become a leader who can take your team to new heights, personally and professionally.
Lean Six Sigma is a tool that professionals and students can use to improve their lives, all without leaving what they are doing on a certain scale today. This course helps you to understand leadership basics and gives you the foundations you need to be a great face to your team.
Although it is closely related to our Sigma training, it does not involve the entire process. This will help you understand all aspects of Sigma terminology if you wish, but it is not required, and leadership will always be our main focus in this process.
How Can We Help You?
Students in high school and college will be able to improve their skills and learn new ones. This will help them in their future careers and personal projects.
These classes will teach you how to communicate with others, make informed decisions, manage a group, use problem-solving skills, and improve your decision-making.
Why do we recommend LSS and emphasize it during this process? It is a method that encourages improvement. It helps individuals reduce waste and be more efficient in their processes or steps related to personal and business aspects. 
Learning with our experts can help you improve your self-esteem as well as your ability to collaborate with others.
Please contact us for more information on our Lean Six Sigma Leadership Excellence classes and lectures or any other service we offer.
We understand that you may not have enough time. However, we offer flexible scheduling options so that you can manage your school activities and work responsibilities.
Let our team know how you would like us to help. If you're a school or company looking to incorporate this into your daily activities for workers or students, we can also create an entire program!